The Interview Prep
Sleep was not my friend Sunday night. I would be interviewing
Paige Duke
and
Jeremiah James Korfe
in the morning and my brain was unwilling to rest. I went over the interview questions in my mind, carefully rearranging the words. It was important for me to convey Paige and Jeremiah's experience of falling in love in the most unlikely of circumstances, a reality TV dating show. It was not to be taken lightly and I knew I only had 30 minutes to get it right.
Writing the Blog
Where do I begin? Paige and Jeremiah are too sweet and amazing for mere words. Because it's so much more than just words...it's in the tone of their voices...the joy and elation that they can finally be together...the sweet little laughs...the way they flirt and tease one another...and yes, the frustration they felt at times. How do I begin to convey this in a blog?
Paige and Jeremiah's Love Story
The Beginning
Picture Courtesy of CMT
Against all odds, worlds collided on Season 3 of
CMT's Sweet Home Alabama
, for
Paige Duke
, spokeswoman and accounts manager for
Kruger Farms
and
Jeremiah James Korfe
, farmer and lead musician of the band,
From Joyce
.
Having both had previous experience with reality TV, they came loaded with skepticism. Jeremiah had been hoping for a woman like Paige since the age of 12. Paige had been wanting to meet her soul mate. From their first conversation on the hayride, they felt an instant connection, but how could this be?
Jeremiah was looking for a spiritual woman , one that was a little bit city and a little bit country. While he hoped for a girl that could ride a 4-wheeler, hunt and enjoy the outdoors, he also wanted someone that could look beautiful, dressed up in heels.
Love at First Sight
When Paige first saw Jeremiah, he took her breath away. He was so handsome...exactly the type of guy she was attracted to. Looking in his eyes, Paige could see inside of him and it felt like they were the same person.
The first time Paige and Jeremiah talked by the combine, they realized how much they had in common.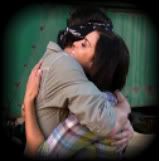 Screencap Courtesy of Bachelor Spoiler Fans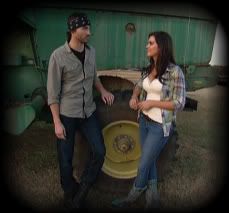 Screencap Courtesy of Bachelor Spoiler Fans
When Jeremiah first hugged Paige and told her she was beautiful, she felt something she had never felt before. She told the producers the very first day that Jeremiah was the one.
That night at the house, Paige wrote a note to her mom. She explained about each of the guys and then there was Jeremiah. She couldn't stop writing about her feelings for him. As Paige lay awake that night, thoughts of Jeremiah filled her mind. It scared her that she was feeling so strongly about him this early in the process, that she couldn't stop thinking about him. It left her feeling vulnerable.
Red Bandanna and a Green Combine
Screencap Courtesy of Bachelor Spoiler Fans
Screencap Courtesy of Bachelor Spoiler Fans
On a group date, Jeremiah gave his bandanna to Paige to protect her neck from a paintball hit. Paige said it felt so good to have it, she slept with it every night. Paige wore that bandanna on her first date with Jeremiah, the date in a combine. While the city guys didn't see the romance in combining soy beans, she was happy for the opportunity to be with Jeremiah. The combine date was a perfect way for them to connect without the camera crew close by. Jeremiah and Paige talked freely about everything on that date.
Struggles
Jeremiah wondered if what he was feeling for Paige was real. His head was playing mind games. How is it possible that she felt something for him, when he was living with a great bunch of guys? How can you find love in such an unrealistic situation? As the guys would come back from their dates, Jeremiah kept his head down and his heart to himself.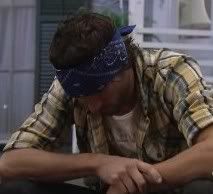 Screencap Courtesy of Bachelor Spoiler Fans
Paige longed for someone to talk to about what she was feeling for Jeremiah. She was scared she was falling for him too fast. Out of respect for the other guys, Jeremiah was not one to seek her out or put his arm around her in a crowd. Paige thought she felt the connection with Jeremiah, but at times, wondered if he was really interested.
Jeremiah kept his guitar as a constant companions. The words he was feeling flowed onto the paper. The rhythm of his soul played out on the strings.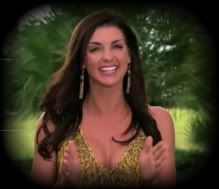 Screencap Courtesy of Bachelor Spoiler Fans
Although Jeremiah was not opening up to the guys in the house, or in front of the cameras, he was writing his thoughts and feelings down for Paige. Jeremiah was excited when he found out she had left her boots on the beach. He slipped the notes in her boots and hoped she would see them. The next morning when Paige went to put them on, she found seven letters from Jeremiah. She read them over and over, with the excited and giddy feeling of middle school first love. Jeremiah didn't profess his love for her in the letters, but the words were just as sweet. He told Paige that girls everywhere are going to look up to her because she is so wonderful. He shared things about his family. Jeremiah told Paige that he'd been preparing his heart for girl like her. Although they wrote to each other every day, this was the only time they were able to exchange notes during filming. Producers wanted to have the love story unfold on camera, not on paper. Jeremiah felt bad for compromising production with the letters and by not opening up.